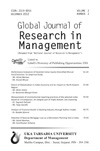 ISSN: 2319-8915
Global Journal of Research in Management (GJRIM)
GJRIM is Bi-Annual Journal - Published in June and December
Global Journal of Research in Management (GJRIM)
GJRIM aims to provide research-based papers, articles and case reviews on varied topics of Management. Journal focuses on theoretical / empirical research papers or case studies of research oriented nature and/or policy implications of work described.
GJRIM's scope in terms of incorporating and disseminating management research work done at global level. We also wish to make this Journal a platform to provide cross-cultural research in management domain. Further, it aims to provide research-based papers, articles and case reviews on varied topics of Management. Focus will be on original work on theoretical or empirical research or experience, illustrating the practical applicability and/or policy implications of work described. The selection of papers for publication will be based on their clarity, relevance, topicality, originality and the extent to which they advance knowledge, understanding and application; and also their likely contribution towards inspiring further development and research.
Call for Papers
Prospective authors can submit their contributions to the Editor round the year. While sending contributions to the journal, author must follow the guidelines.
Submission of manuscripts
In an attempt to inspire researchers, academicians and professionals as our authors, publications with GJRIM lays NO SUBMISSION FEES. Authors can submit their manuscript without incurring any charges for submission, processing or publication of manuscripts.
Upon publication of the article, main author will receive a complimentary copy of the issue as well as two reprints of article published in the journal. If you have any queries, please contact us on editor.gjrim@utu.ac.in
Criteria for acceptance
In accepting work for publication, the Editors and reviewers give special weight to readability and interest value for a wide readership. All papers are reviewed by at least three expert referees as well as an Editor. The Editors' decision is final.
Electronic submission
Prepare initial submissions in accordance with the author guidelines and send them as attachments to e-mail to the Editors.
Acceptance of Manuscripts Intimation
Papers accepted will be intimated through mail.
Accepted manuscripts
The electronic copy of the final, accepted manuscript should be emailed to the Editors. The electronic copy must meet the following criteria:
The electronic manuscript is the final accepted version
An identical double-spaced hard copy is sent to the Editors at the same time.
The paper should be prepared in Microsoft Word.
The files are clearly labelled with the journal title, author's names, paper title, contents and the application used.
Journal style is followed for references, capitalization etc.
Copyright
To enable the Publisher to protect the copyright of the journal, authors must assign copyright in their manuscripts to the Publisher. All submitted manuscripts must be accompanied by a statement signed by all authors that the article is original, is not under consideration by another journal, has not previously been published elsewhere and its content has not been anticipated by any previous publication.
Authors will be entitled to publish any part of their paper elsewhere, provided the usual acknowledgements are given.
Authors Guidelines
Authors are requested to strictly comply with following guidelines while submitting Manuscripts for Global Journal of Research in Management (ISSN: 2319-8915).
Manuscripts have to be submitted in MS Word file (*.doc) as an email attachment to editor.gjrim@utu.ac.in.
Use 12 point 'TIMES NEW ROMAN BOLD FONT (UPPERCASE)' for main Headings. All Headings should be serially numbered in Roman figures I, II, III, IV,...
Use 12 point 'Times New Roman Bold Font (Capitalize Each Word)' for first level Sub Headings. First Level Sub Headings should be serially numbered in capital alphabets A,B,C,...
Use 12 point 'Times New Roman Bold Italics Font (Capitalize Each Word)' for second level Sub Headings. Second Level Sub Headings should be serially numbered in small alphabets a,b,c...
Use 12 point simple '(Unbolded, non-italics) Times new roman font' for Text part of the Manuscript.
Follow above guidelines for Charts and Tables as well (in addition to Text Part of the Paper).
Maintain Single inch Margin on all four sides of A4 size paper.
Maintain Single Line Spacing throughout paper. Restrict whole paper length maximum to 16 Pages (Including Tables, Charts).
All tables, charts, graphs, big equations should be numbered properly and put at the end of the paper (after reference section). Give appropriate notes in the text for referring to them. For example, you can write- 'Kindly refer Table - I' in the text.
Images should be of high resolution and in only black and white color.
Follow American Psychological Association (APA) Guidelines for preparation of manuscript references.
Within text, references must be indicated in brackets with authors surname(s) and date of publication.
List the full reference in alphabetical order of author(s) surname at the end of the text part of paper.
The cover page should contain Title of Paper, Main Author / Co-Author(s) Name, Designations, Affiliations, Complete Official Address, Contact Phone/Fax Nos., Email Address, Mention about Corresponding Author Name(If applicable), Sponsorship (of research work) Details (If any).
Abstract should be of maximum 200 words. It should be able to effectively convey summary of whole paper in brief.
Originality / Unpublished Work Certificate is to be provided by author(s) with manuscript submission.
Period
Academicians/ Research Scholars
Students
Academic Institution
Others
One Year
600
400
800
1000
Two Year
1000
600
1200
1800
Three Years
1400
900
1600
2600
Subscription of this journal is also available for the institutions in exchange of subscription of their journal.
Payment can be made by demand draft/at par cheque in favor of Shrimad Rajchandra Institute of Management and Computer Application, payable at Bardoli.
Please note that subscription of the journal is also available for the institutions in exchange of subscription of their journal.
Chief Editor - GJRIM
Shrimad Rajchandra Institute of Management and Computer Application,
Maliba Campus, Gopal Vidyanagar, Village: Tarsadi, Dist. Surat,
Gujarat, India. Pincode - 394 350
Contact No.: (02625) 255389
E-mail: editor.gjrim@utu.ac.in
Publication Ethics
(Derived from the recommendations of Elsevier and COPE's Best Practice Guidelines for Journal Editors)
Global Journal of Research in Management (GJRIM) is a peer-reviewed international journal. This statement spells out ethical behaviour of all parties involved in the act of publishing an article for this journal, i.e.: the author, the editors, the peer-reviewers and the publisher. GJRIM is committed to ensuring ethics in publication and quality of articles therefore conformance to standards of ethical behavior is therefore expected of all parties mentioned below:
Authors : Authors should clearly represent the objective of discussing the significance of research work as well as provide adequate details and references to permit others to replicate the experiments. Fraudulent or knowingly inaccurate statements constitute unethical behavior and are unacceptable. Review articles should also be objective, comprehensive, and accurate accounts of the state of the art. The authors should ensure that their work is original, and if the work and/or words of others have been used, this has been appropriately referenced and acknowledged. The corresponding author should ensure that there is a full consensus of all co-authors in approving the final version of the paper and its submission for publication.
Plagiarism : Plagiarism in all its forms is unacceptable and will be treated as unethical publishing behavior. We at GJRIM strongly discourage and against this unethical practices in research. Copying text from other research article without properly crediting the source (plagiarism) or writing many research articles with more or less the same content by the same authors (self-plagiarism) is not acceptable.
Editors : Editors should evaluate manuscripts exclusively on the basis of their academic merit. They should encourage debate and academic integrity and also protect individual data. They also have a duty to act if any misconduct is suspected and to ensure the integrity of the academic record. The editors must not use unpublished information in the editor's own research without the express written consent of the author. In case of any discrepancies the decision of the editor stands final.
Reviewers : Any manuscripts received for review must be treated as confidential documents. Privileged information or ideas obtained through peer review must be kept confidential and not used for personal advantage. Reviews should be conducted objectively, and observations should be formulated clearly with supporting arguments, so that authors can use them for improving the paper. Any selected referee who feels unqualified to review the research reported in a manuscript or knows that its prompt review will be impossible should notify the editor and excuse himself from the review process.